Boiler Installation Leicester
Chris Alam Plumbing & Heating is a Worcester Bosch Boiler accredited Installer. This enables us to offer extended warranties of up to 10 years on Worcester boilers. Chris Alam plumbing and heating is also a Gas safe registered business, (204625) & one that you can trust.
Chris has been installing and servicing many different makes of boilers over the last 32 years. These include boilers such as;
Vaillant
Ideal
Baxi
Glow Worm
Vokera
All boiler installations come with a chemical flush, with either a power flushing machine or a MagnaCleanse filtered flush. MagnaCleanse® system flushing removes system debris. The precision agitator removes more sludge in 20 seconds than can be extracted in 30 minutes without it. It even shifts hardened debris, reducing the need to remove radiators to completely clean the system.
Do I need a new boiler?
With energy bills more expensive than ever, your boiler needs to be heating your home for the lowest possible cost and your old boiler could be losing you on average around £305 a year.
Boilers installed in the UK are required to be condensing boilers. These are far more efficient than traditional boilers as they release gas at just 55 degrees Celsius (rather than 180 degrees), therefore requiring less energy to generate the same amount of heat.
If you wish to get in touch for advice about new boiler installations and recommendations please do not hesitate to contact me.  I have extensive knowledge of heating systems and the new technology available today.
Need to book an annual boiler service? Please call for a quotation on 07855 957 558.
Discover the Award Winning Greenstar Range from Worcester Bosch
With a choice of over 25 boilers available in our Greenstar range, we are sure you will find the best for your home…..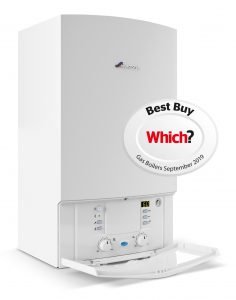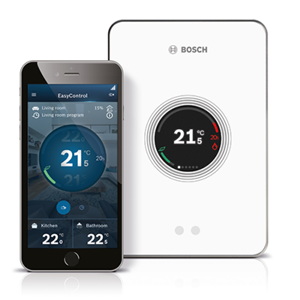 The New Bosch EasyControl…..
The new smart internet-connected heating and hot water thermostat from Bosch makes everything easy and gives your customers complete control.
When combined with our Smart TRVs, homeowners can easily control the heating in each individual room, meaning they can achieve the perfect heating environment by deciding the times, temperature and which rooms they want to heat all from their smart device.
The device can be connected to the boiler using a 2-core cable. Once connected to the internet, the simple set-up is completed using the EasyControl app.
For more information and technical specifications on Worcester Bosch latest products, please visit the Worcester Bosch website.